PORS9 Scottsdale 2020 Auction Recap
Some Surprises – Some Predictable Behavior
In the private market one expects, and mostly gets, rational actors. But that is not what auction houses count on. Auctions by nature are unpredictable. Emotions over-running factual evidence and bad decision making occurring in the moment are hoped for. Sometimes it's ego … sometimes it's just pockets too full of wastable cash … and sometimes both. And as such you have probably never seen Warren Buffett at an auction!
By no means are we one to tell anyone how to spend their money – but we can point out when they have missed an opportunity to spend it wisely or have flushed it down the toilet. And we definitely saw both at Scottsdale 2020. Whether it be egos going to battle, a really good auctioneer working his magic or smart money simply saying no … we had it all at Scottsdale … so let's take a look.
Auction Recap RM Sotheby's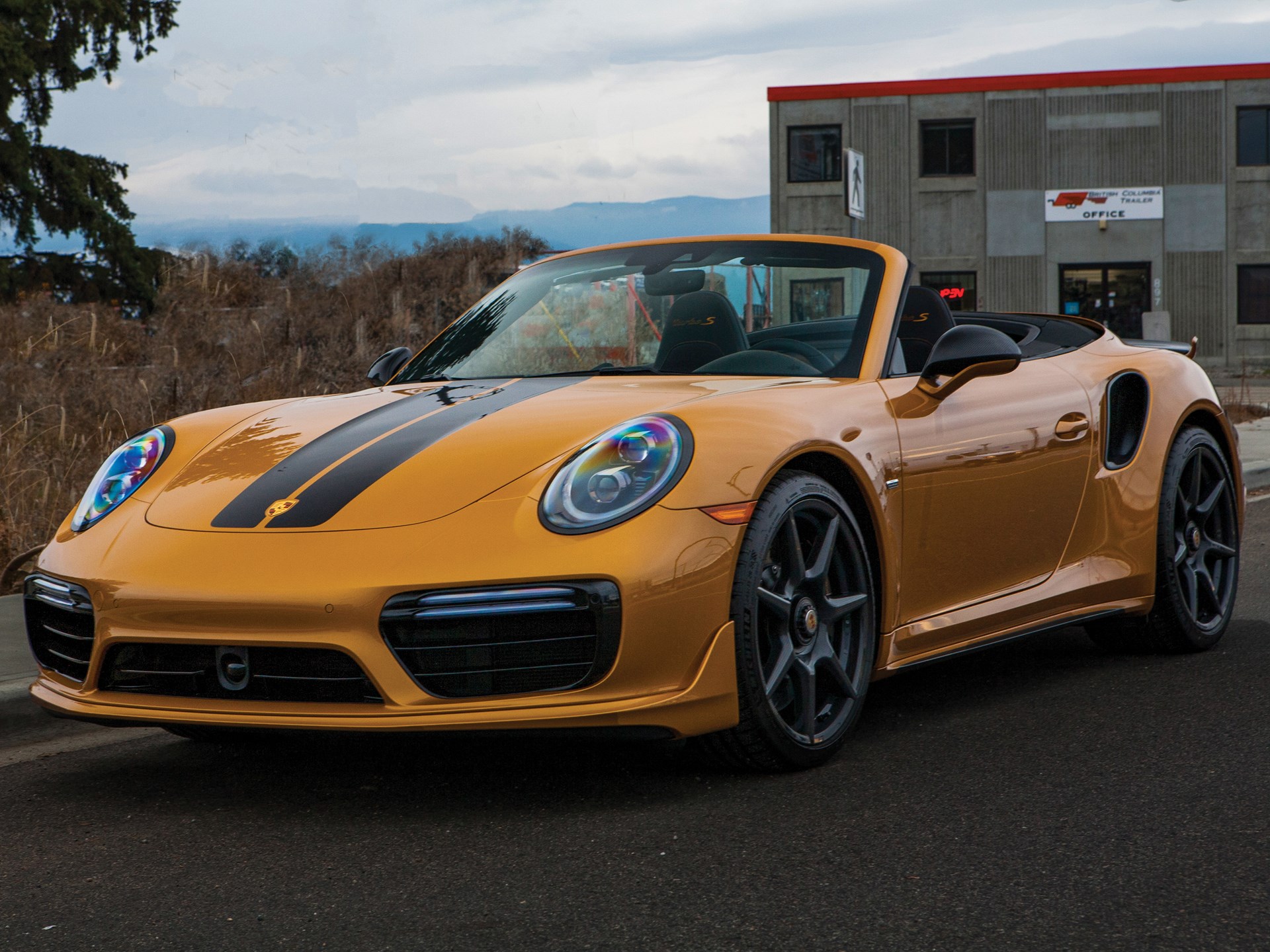 Lot 116 – 2019 Porsche 911 Turbo S Cabriolet Exclusive Series – 19 KM – Golden Yellow Metallic/Black Golden Yellow – Estimate $300k to $350k – Reserve.
What we said: … a $260k hammer which all-in would be MSRP plus a little … otherwise no hammer.
Hammer price: $280k No Sale on the Block – Now Amended as Sold
Our take: Back in the day the Turbo S was the final offering for a model series (911, 964, 993 etc.). The pinnacle. Then with the 996 Turbo S (essentially a 996 turbo with the X50 option) it became a standard model which continued through the 991 and now sadly with the 992 it's nearly a first iteration offering. This special 'limited series' is certainly not a classic last hurrah and as a 'marketing' car will never be valued that way.
The new 935 and lesser so the 991 GT RS Clubsport are the pinnacles of this era. The seller wisely had second thoughts after the gavel failed to fall at the live auction and took the money.
View this car's build spec here.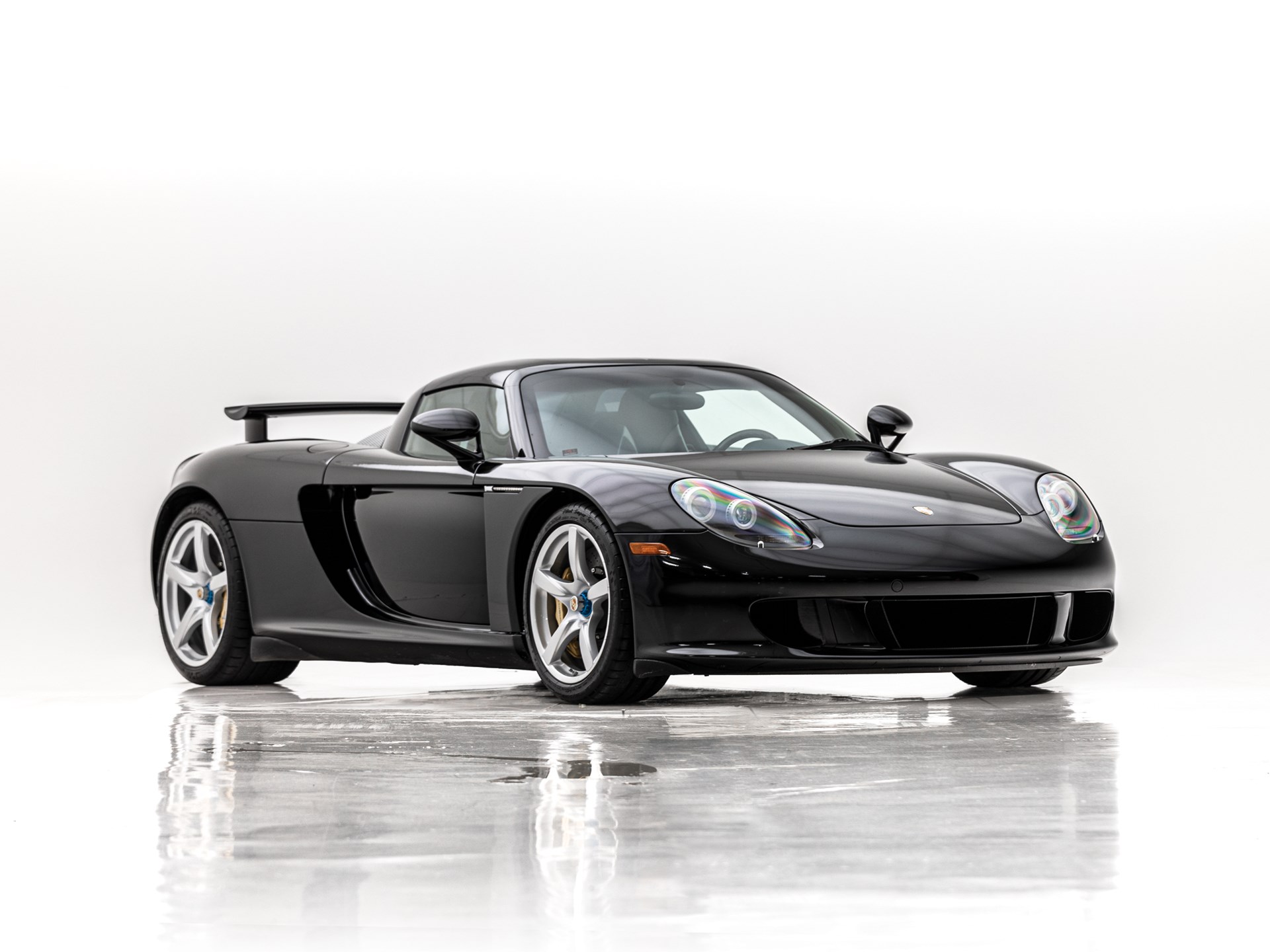 Lot 164 – 2005 Carrera GT – 2,540 M – Black/Dark Grey – Estimate $750k – $850k – Reserve.
What we said: … reserve off near low estimate $735k hammer would place it around retail market all-in.
Hammer price: $710k Hammer ($786k all-in) – Reserve Pulled
Our take: The CGT has been one of the few models to keep rising in price since the 2017 drop off. It is going to be forever one of the most unique and special Porsches, but they have exceeded their near term value. Asking $800k for one is generally not happening. Patient buyers are seeking better deals down the road. We thought this car would do a little better but more so it seems to indicate that CGT buyers are not going to overpay because there will always be some for sale.
View this car's build spec here.
Auction Recap Gooding & Co.
Lot 013 – 2011 Porsche 997 GT3 RS 4.0 – 2,100 M – Carrara White/Black – Estimate $450k to $500k – Reserve.
What we said: … pull the reserve at a $425k hammer otherwise it's going home.
Hammer price: $360k No Sale
Our take: We were way off … but never as we could have expected. That this car could not crack $360k is almost shocking. Yes we missed it … but this much to the downside? This is without any doubt the most collectible 997 model period. The only lesson we might take from this outcome is that if a car has been on the market for more than six months – as this one has been – it is probably DOA at live auction. Everyone has seen it and everyone has passed. Certainly the most striking result at Scottsdale and a message to the market that it will not be 2015/16 again for a while.
View this car's build spec here.
Lot 061 – 2018 Porsche 991 GT3 – 80 M – PTS Light Green/Black – Estimate $150k to $180k – No Reserve.
What we said: … getting into it for around $155k all-in is the place to be – so a $140k hammer it is.
Hammer price: $360k No Sale
Our take: A quick run up to $140k and a stall out … just what we thought should happen. Then a slap fight in $2.5k increments broke out between several bidders, including a telephone bidder, and a slow and painful rise to $177.5k took place … then thankfully the hammer finally fell at $182.5k. This is an auction's cruelest irony … an ecstatic seller standing side by side with a new owner they've buried in their old car. A buyer can be excused with a super rare must own collectible, but this is not that. In 6 months when all the sellers of 991.2 GT3's come fully out of their winter hibernation these models will be down 30% from this all-in price.
View this car's build spec here.
Lot 130 – 2008 Porsche 997 GT3 RS 3.6 – 7,000 M – RS Orange/Black – Estimate $175k to $225k – No Reserve.
What we said: Without reserve this one will not be going back at a $130k hammer.
Hammer price: $180k Hammer ($201k all-in)
Our take: Kudos to Gooding as auctioneers on this one! They really showed their stuff … getting two bidders to fight tooth and nail to own this car … spinning it up to a hammer price that could never be replicated in the open market. This Orange 997.1 RS will spend the next decade trying to catch back up to this all-in price. And, unfortunately for market buyers, every seller will now think their Orange RS is worth the same money … not so much. And such is the unpredictability of auctions … as a result our estimate was way off.
View this car's build spec here.
Lot 160 – 2004 Porsche Carrera GT – 4,700 M – Black/Dark Grey – Estimate $750k to $850k – Reserve.
What we said: Take off the reserve for a $710k hammer or its going back home.
Hammer price: $700k Hammer ($775k all-in) – Reserve Pulled
Our take: This car sold where the current market is for a similar example. Too bad a huge chunk of the buyer's money went into the pockets of the auction house. This is not a car to take to auction – there is a solid private market out there in which the seller could have moved the car and kept a lot more of the proceeds.
View this car's build spec here.
Lot 165 – 2008 Porsche 997 GT2 – 9,100 M – Black/Black – Estimate $170k to $190k – No Reserve.
What we said: Someone should buy it and drive it with a no reserve $140k hammer.
Hammer price: $145k Hammer ($162k all-in)
Our take: It's been more than a decade since Porsche built a GT2 (preferring to jump to, and over produce, the more marketable GT2 RS) and it may be another five years before we see another … if at all. Someday this model will be highly valued, here it sold where it could. The buyer should hold on to this car as they will make money on it down the road.
View this car's build spec here.
Auction Recap Barrett Jackson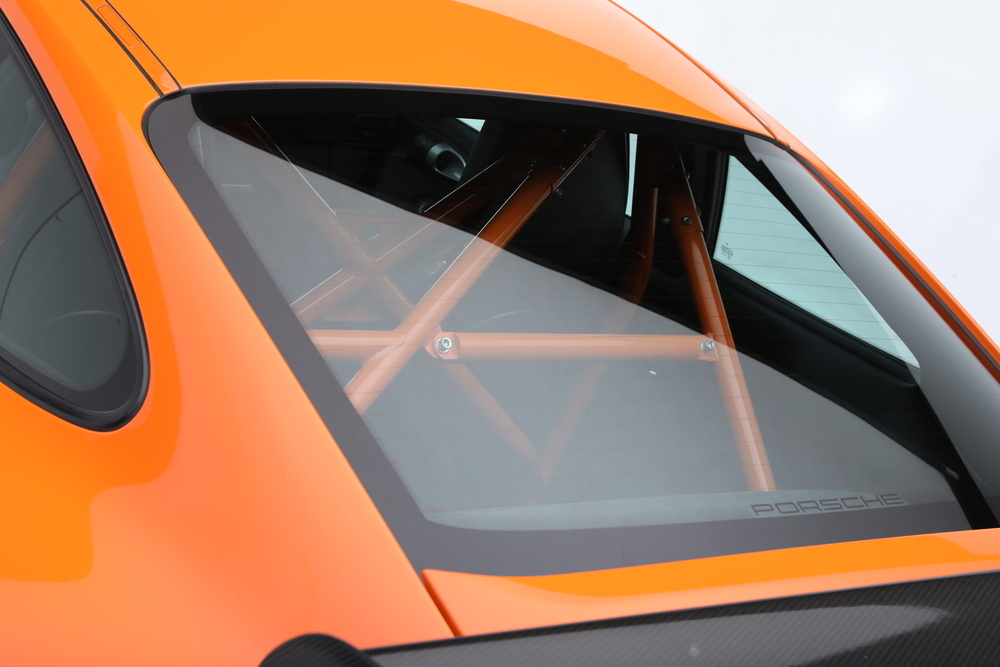 Lot 1342 – 2007 PORSCHE 911 GT3 RS – 35k KM – RS Orange/Black – Estimate Not Provided – No Reserve.
What we said: With no reserve this is a $110k car at the hammer.
Hammer price: $190k Hammer ($209k all-in)
Our take: After the staid RM and Gooding auctions the hyper-mania of Barrett Jackson took over and blasted this one even beyond the Gooding example. This was a lesser car yet banged out an even better $190k hammer. Maybe the loser at the Gooding auction simply refused to be satisfied until they were more severely punished than their earlier protagonist had been. Questionably bought. In any event we were way off and for similar reason as at Gooding … after all it is an auction and anything can happen!
View this car's build spec here.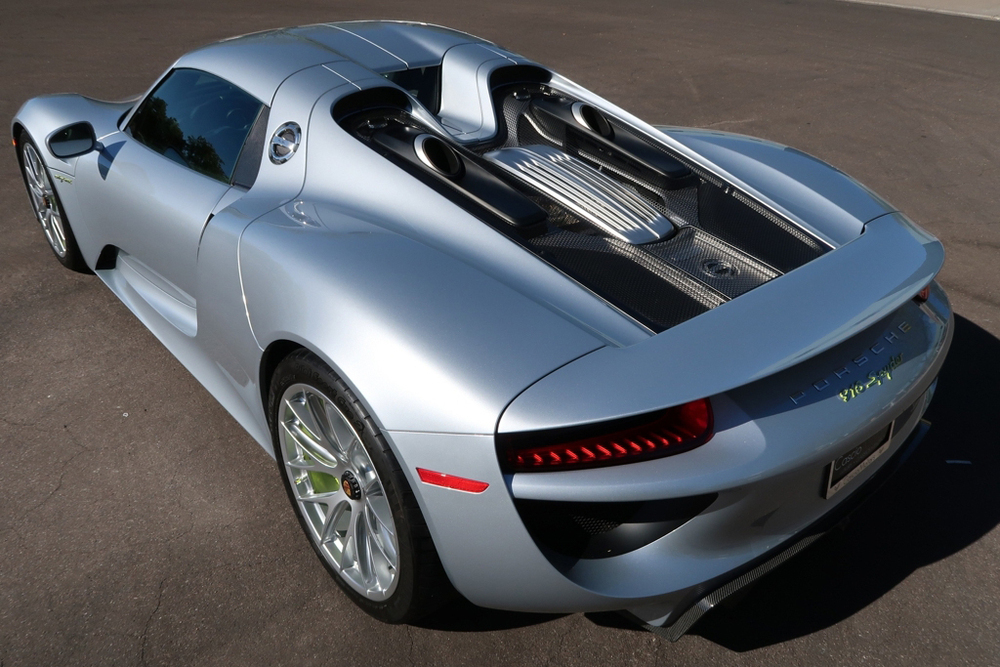 Lot 1405 – 2015 Porsche 918 Spyder – 3,784 M – Rhodium Silver Metallic/Onyx Black with Silver Piping – Estimate Not Provided – Reserve.
What we said: 50/50 here … either no sale or a reserve off $1.1m hammer.
Hammer price: $900k No Sale
Our take: With an unkind hand gesture to RM and Gooding's carefully considered, exceedingly high, opening gambits Barrett Jackson shot this one out of the gate with a meaninglessly low $200k bid. Then the incomprehensible rabid auctioneer, in the blink of an eye, ran it to a $900k dead stop. The speedy mumbles are breath taking but with zero emotion as required to create tension among bidders. So this one quickly stalled out and was "all done".
Where RM and Gooding succeed with straight Bourbon neat, Barrett Jackson launches each lot with a Red Bull and Vodka shot followed by a 5 Minute Energy back. There is no way the auctioneer is paid by the word but he should be. The 918 is a five year old hybrid super car and in its' world technological progress moves quickly. With 918 built, it's not surprising this model is slowly regressing back to MSRP. Even so this money was light for today … if we deciphered the babel correctly.
View this car's build spec here.


WANTED: Porsches for PORS9 Marketplace!

Categories:
P9 Premium