PORS9 Scottsdale 2020 Auction Preview
Meh! For Porsches a Whimper … and a Fizzle
After a long hiatus we are back with our first live auction preview of 2020. And whether it's saturation in the marketplace, lack of confidence in the current live auction scene or Scottsdale having lost its Porsche luster … 2020 Scottsdale is a shell of the past and a serious let down. There are no Porsches of any serious consequence nor interesting air-cooled rarities nor even a few race cars of interest … in fact we barely have enough to write about.
Perhaps Scottsdale is simply no longer the place to sell your Porsche unless you have no other viable alternative, Amelia Island 2020 may help tell to reveal if that is truth. But more likely sellers are seeing the high market saturation of what 18 months ago were hot commodities and are deciding to wait out the current glut … and maybe even drive their cars a little bit. Believe us, a few miles are of little matter at this point.
Porsche drenched the market at the end of the 991 era with too many 'end of series' cars at prices deigned to kill speculators. And it worked! Maybe too well. At this writing, the pinnacle 991 GT2 RS Clubsport which with limited production should have been a celebrated 991 last hurrah and a coveted spiritual successor to the 993 GT2, has Porsche sitting with as many as 40 units unsold worldwide – out of 200 to be built. Ironically it seems Porsche has been the greatest contributor to the marques current 991 era burnout.
Have a look at our PORS9 December Market Update for late model cars. It is astonishing how many of most desirable models built from 2016 – 2019 are on the market. And they will sit unsold for the foreseeable future, at least until such time as sellers are willing to accept a considerable depreciation on their purchase price. More so hanging on to them with low miles will probably prove to be a repeat of the 1989 911 Speedster. Too many produced, so many held on speculation and never driven, and now so many low mileage examples exist as to make mileage a non-factor in pricing. They are worth what they worth and that's it.
Auction Preview RM Sotheby's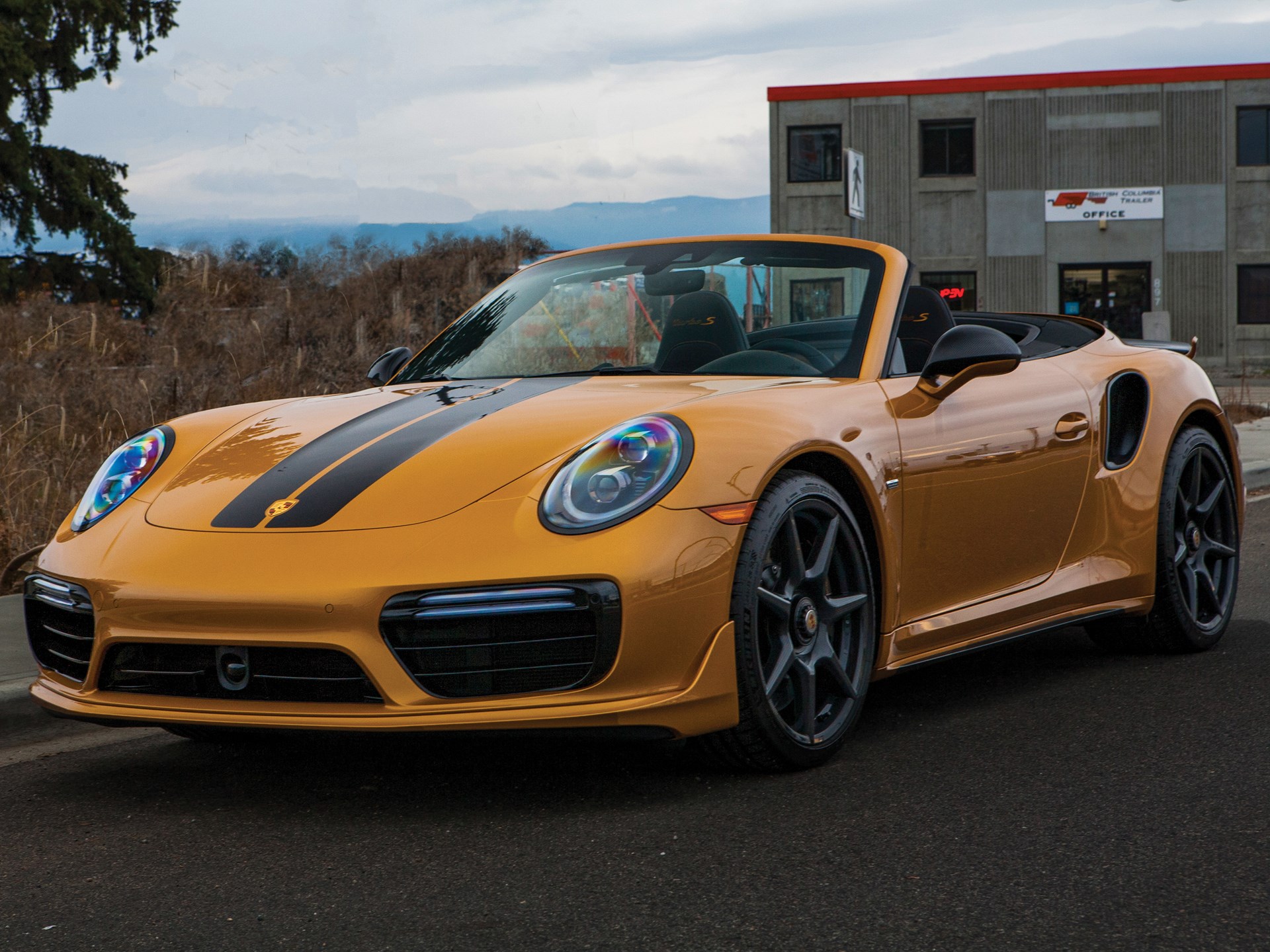 Lot 116 – 2019 Porsche 911 Turbo S Cabriolet Exclusive Series – 19 KM – Golden Yellow Metallic/Black Golden Yellow – Estimate $300k to $350k – Reserve.
The Turbo S Exclusive was an interesting idea, probably more desirable in the coupe version and not in Golden Yellow Metallic. The PORS9 Search App will tell you that 318 units were built for North America not 200 and that 194 of those are the more common cabriolet version. And in fact the most common spec built was the Golden Yellow Metallic cabriolet like this one (149 units).
A Canadian car (thus KM) may not seem all that necessary given that according to the PORS9 December Market Update there are 27 Turbo S Exclusives for sale in the U.S. at an average asking price of $294k. To clear these alone will take at least a 10% reduction in cost down to around $265k (average MSRP $279k). Simply put these are below MSRP cars while a year ago they were around $100k over.
With reserve off a $260k hammer which all-in would be MSRP plus a little … otherwise no hammer.
View this car's build spec here.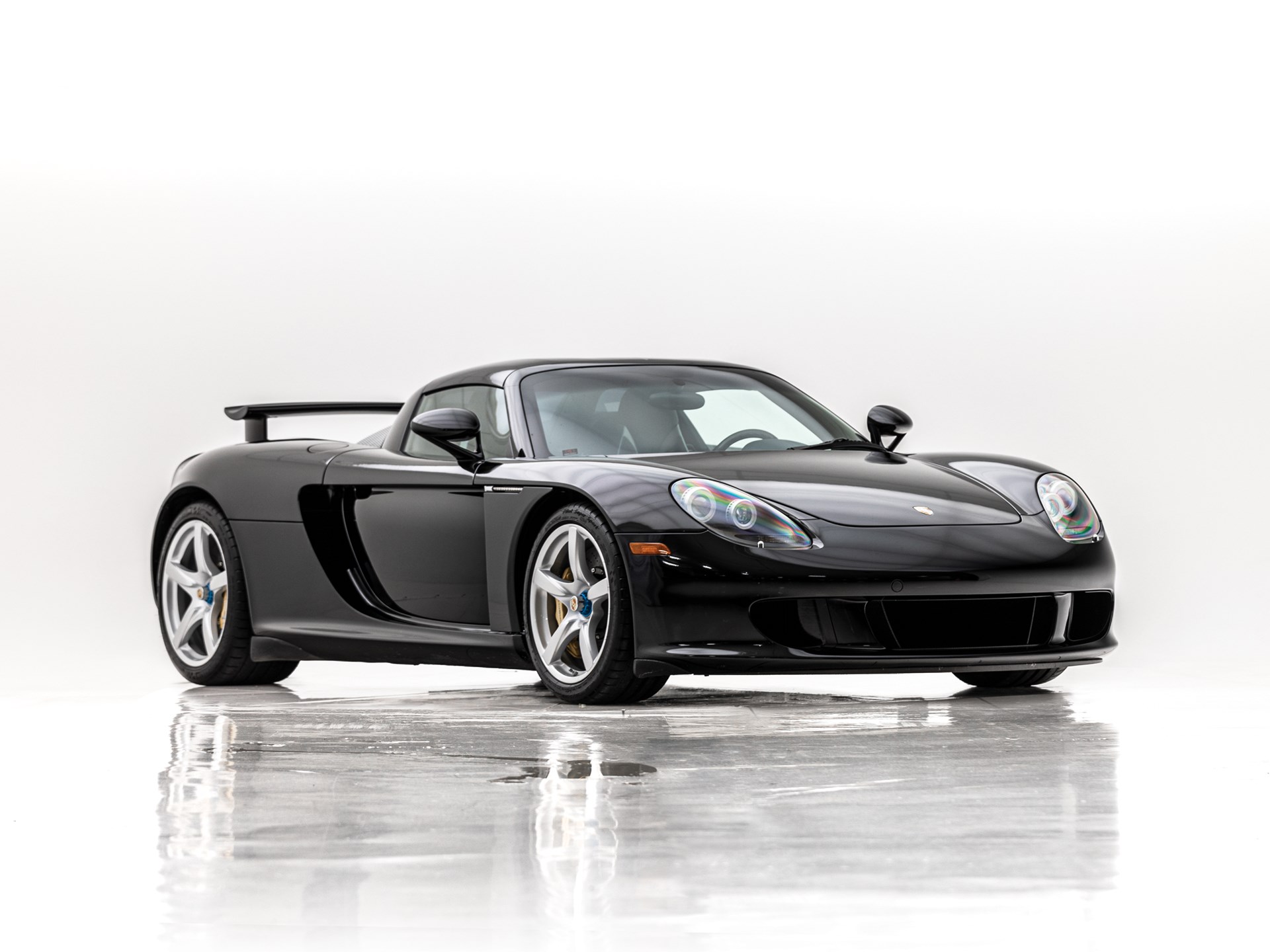 Lot 164 – 2005 Carrera GT – 2,540 M – Black/Dark Grey – Estimate $750k – $850k – Reserve.
The Carrera GT – not in GT Silver Metallic – remains one Porsche model pulling some real demand. A 2005 with low miles is a positive for some and a negative for others. These days it seems there is a more demand for higher mileage drivers, as well maintained it's a pretty robust car. And why pay more for a car you cannot drive? 'Originally owned by' is meaningless as we learned from the most recent Jerry Seinfeld examples.
This auction claims the U.S. production count at 644 – which was our original published number many years ago, so we know that it comes from us … however some time ago we increased this to 645 which is the correct number. That our originally posted incorrect count from some time ago persists means that no one bothered to double check counts using the PORS9 Search App.
An original US car (per Experian) now being dropped in from Canada, this car makes sense for the right buyer as long as it has been properly maintained. A reserve off near low estimate $735k hammer would place it around retail market all-in.
View this car's build spec here.
Auction Preview Gooding & Co.
Lot 013 – 2011 Porsche 997 GT3 RS 4.0 – 2,100 M – Carrara White/Black – Estimate $450k to $500k – Reserve.
Certainly one of the few cars from the 997 era seemingly destined to increase in value is the RS 4.0. Built as a limited numbered edition, the last of the Mezger era engines, and this one with low mileage that may actually matter someday. This example seems right.
The only problem here is that the car has been for sale since October 2018! Passed around through multiple dealers the car has failed to command a just under $500k asking price. Now being offered out of Marshall Goldman at auction with a low estimate of $450k seems redundant. It certainly will not get close to high estimate.
Pulling the reserve may get this off the stage at a $425k hammer otherwise it's going home.
View this car's build spec here.
Lot 061 – 2018 Porsche 991 GT3 – 80 M – PTS Light Green/Black – Estimate $150k to $180k – No Reserve.
Offering this example at no reserve makes sense. A cool color, manual and as new, it seems right. Most recently offered by Porsche Colorado Springs for $183k. But … on the downside, per the most recent PORS9 December Market Update, there are 170 991.2 GT3's on the market with an average ask of $172k – that average ask is clearly not getting it done. Of those, 26 are Paint to Sample (24 non-metallic) Base (non Touring) models like this one. And a few of those are this color … hmmm? Pricing looks down from here into 2020.
This car has an MSRP of $187k … getting into it for around $155k all-in is the place to be – so a $140k hammer it is. And the owners of the other 170 cars on the market can adjust their pain level accordingly – either a little now or a lot more later.
View this car's build spec here.
Lot 130 – 2008 Porsche 997 GT3 RS 3.6 – 7,000 M – RS Orange/Black – Estimate $175k to $225k – No Reserve.
Well someone certainly did not bother to consult the PORS9 Search App here. Claimed 90 built this color – how about there are 186 North American examples in RS Orange! Driver mileage at this point. And another car consigned for sale at Marshall Goldman within the past few months. Per the latest PORS9 December Market Update there are six RS Orange on the market averaging $140k ask and 10k miles. What are we missing here with this estimate?
Without reserve this one will not be going back at a $130k hammer.
View this car's build spec here.
Lot 160 – 2004 Porsche Carrera GT – 4,700 M – Black/Dark Grey – Estimate $750k to $850k – Reserve.
This is the 2004 version of the RM car, same story but more of a driver and not the more desirable year. Black is not 'rare' by the way. 3 owners. Assuming current services and a price adjustment, that's where the story might end. Except that this car has been consigned for sale at Marshall Goldman asking $845k for several months and has not moved (Marshall Goldman is a perennial seller at these auctions btw).
Take off the reserve for a $710k hammer or its going back home … most probably it is.
View this car's build spec here.
Lot 165 – 2008 Porsche 997 GT2 – 9,100 M – Black/Black – Estimate $170k to $190k – No Reserve.
We have always been a fan of the 997 GT2 and felt it underappreciated. Someday it may come into its own but we have consistently over estimated its value in the market. Unfortunately, this example is probably not where we will see a change in the model's fortunes.
For sale since early 2019 at Porsche Colorado Springs for $225k, most recently the ask was $178k. Of course if we had a dollar for every time we shake our heads that a car is asking for more at auction than it couldn't sell for on the market we'd have a lot of tip money to go around! Five owners is not impressive. Miles are ok. Price drop if you waited a year well worth it.
Quick side note: whomever drafts these descriptions please consult the PORS9 Search App for build affirmation – there were 219 units built for the U.S.
Someone should buy it and drive it with a no reserve $140k hammer.
View this car's build spec here.
Auction Preview Barrett Jackson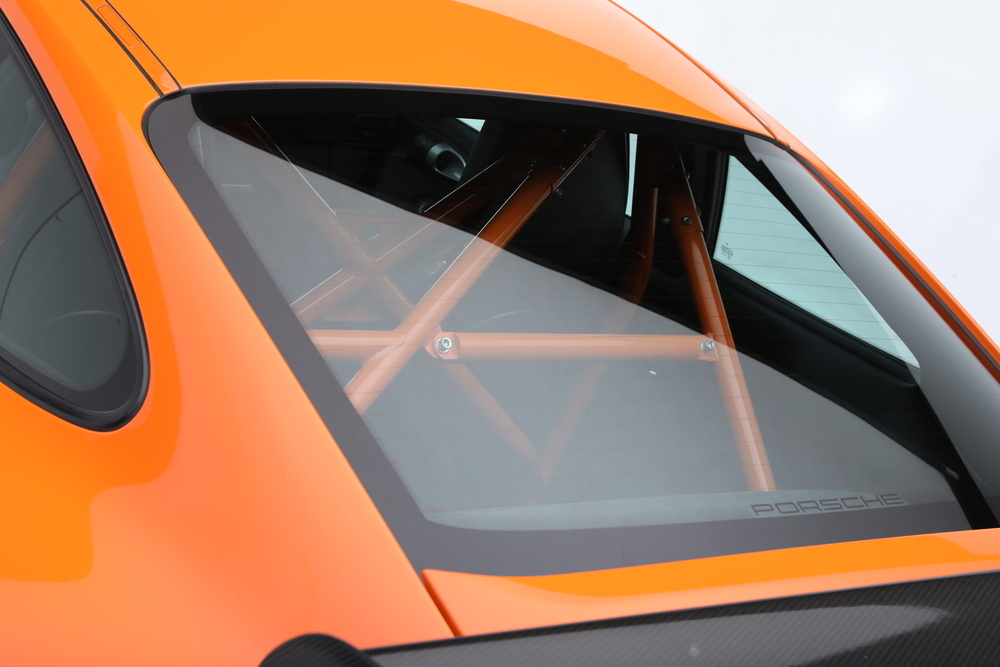 Lot 1342 – 2007 PORSCHE 911 GT3 RS – 35k KM – RS Orange/Black – Estimate Not Provided – No Reserve.
We don't typically cover Barrett Jackson but we needed something to talk about. Another Orange RS. Most recently being listed out of Vancouver BC with 35k KM and a $229k CDN asking price. That ask was never going to happen. Interior carbon package is a nice touch. FWIW Porsche designer Pinky Lai signed the inner door jam and hood. Fitted with a cage so buyers take notice. No need to repeat the PORS9 December Market Update data again here.
With no reserve this is a $110k car at the hammer.
View this car's build spec here.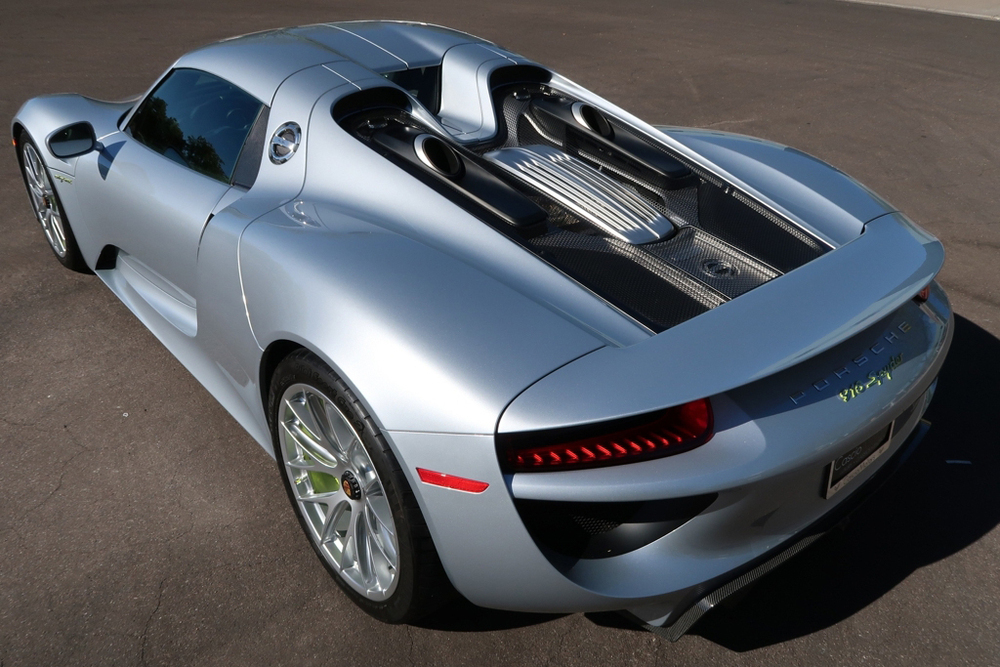 Lot 1405 – 2015 Porsche 918 Spyder – 3,784 M – Rhodium Silver Metallic/Onyx Black with Silver Piping – Estimate Not Provided – Reserve.
Barrett Jackson doesn't do a lot of reserve cars so certainly this is one of their pinnacle cars for Scottsdale. Sadly, they don't provide public estimates … but who needs those anyway?
This particular example has been on offer since early 2019 by a local Scottsdale dealer. Most recently for $1.36m. A one owner, Base model, California car which comes with comes with the usual expected items such as original books, two keys, the original window sticker, owner's books and charging system. A less common color than some others with not unreasonable miles if you want to actually drive the car.
Moving a 918 these days, as the seller certainly by now realizes, requires historically low pricing. They had dropped their ask by $100k over the past few months but that was never going to be enough to move the car. A buyer wants to be in this car for around $1.2m given the market outlook going into 2020. Which would still be $270k over this car's MSRP. Not sure how badly the owner wants out.
50/50 here … either no sale or a reserve off $1.1m hammer.
View this car's build spec here.


WANTED: Porsches for PORS9 Marketplace!

Categories:
P9 Premium