RM Sotheby's Palm Beach … 2020
Online Only Auction Preview
We Preview an Unusual Auction – RM Online
It's only under extraordinary circumstances that a live auction would switch to an 'online only' timed auction format – and this is that circumstance.
Per RM, 'RM Auctions forthcoming Palm Beach auction, scheduled for 20–21 March at the Palm Beach International Raceway, has been transitioned into an Online Only time-based offering. The decision to shift this live auction to the company's online platform comes in light of the current guidance from public health officials regarding the global COVID-19 outbreak. Launched in 2019, the RM Online Only division has demonstrated great success thus far, providing consignors and bidders a platform that allows for faster transactions to take place while still harnessing the level of service and reach associated with the RM Sotheby's brand.'
RM had little choice but to suspend its live event, so approached consignors to go with a virtual auction now labeled '20 – 28 March 2020 Online Only: The Palm Beach Auction; A Time-Based Auction '. RM more than any other auction house has expanded its live event count over the past five years. They will certainly pay the highest price the longer the shutdown continues – if this format does not work out for them. On the upside they already have a little known 'Online Only' division (who knew?). But it remains to be seen how effective a true, full blown, online effort will go for them.
The format is similar to all other online auctions perhaps with the addition of a more formal 'estimate'. Reserve or without, a starting bid price (50% of the low estimate) and an expiration end point. In fact the online auctions will end on their previously scheduled live auction dates. Most of the cars on offer are what you would see on BAT or Ebay. It appears that RM is trying to be something in between those two platforms.
When we assess values for our live auction forecasts we use a combination of prior knowledge of the specific vehicle, knowing the current owner, the car's market history and its Experian Autocheck report. Our experience with live auction houses is that they almost exclusively rely on 'knowing the client'. So beyond knowing that the car actually exists (because it's there) there is not much due diligence aside from editing the owner's descriptive write up (though their specialists may produce 'condition reports' on the vehicle – these reports carry no money back guarantee and so are weighed down by a very large grain of salt). Not all owners are forthcoming and sometimes they are even deceitful. We say, unless a car is well known or near new, never buy a car at live auction without inspecting it in person. But that is not possible here, presenting something of a challenge.
BAT overcomes this challenge by doing more independent screening of vehicles than live auction houses and relies upon its social platform for further scrutiny by enthusiasts and potential buyers. This tends to keep sellers honest. Ebay is basically an advertising platform layered on top of an auction platform. No due diligence and lots of scouts honor. Other than 'feedback' on the seller it's hard to know what you are getting into, again unless the car is well known, new or near new.
One last issue with online auctions is shill bidding. It's pretty easy to perpetuate online. It's done, but not as easily, at live auction. Perhaps RM should have held this auction online but in real-time … that would have been more interesting, sustained more integrity and be more in line with their brand!
Certainly, the outcome will be shaded by the CD19 outbreak's economics. So as to whether RM might sustain this approach on an ongoing basis – even once the Covid is clear, may not be made clear. They might not want to anyway. They are almost exclusively a live auction house and after all (with all due respect to their 'Online Only' division) that is their thing. So probably not.
ACCESS PORS9 RESTRICTED CONTENT FOR FREE
Auction Preview RM Sotheby's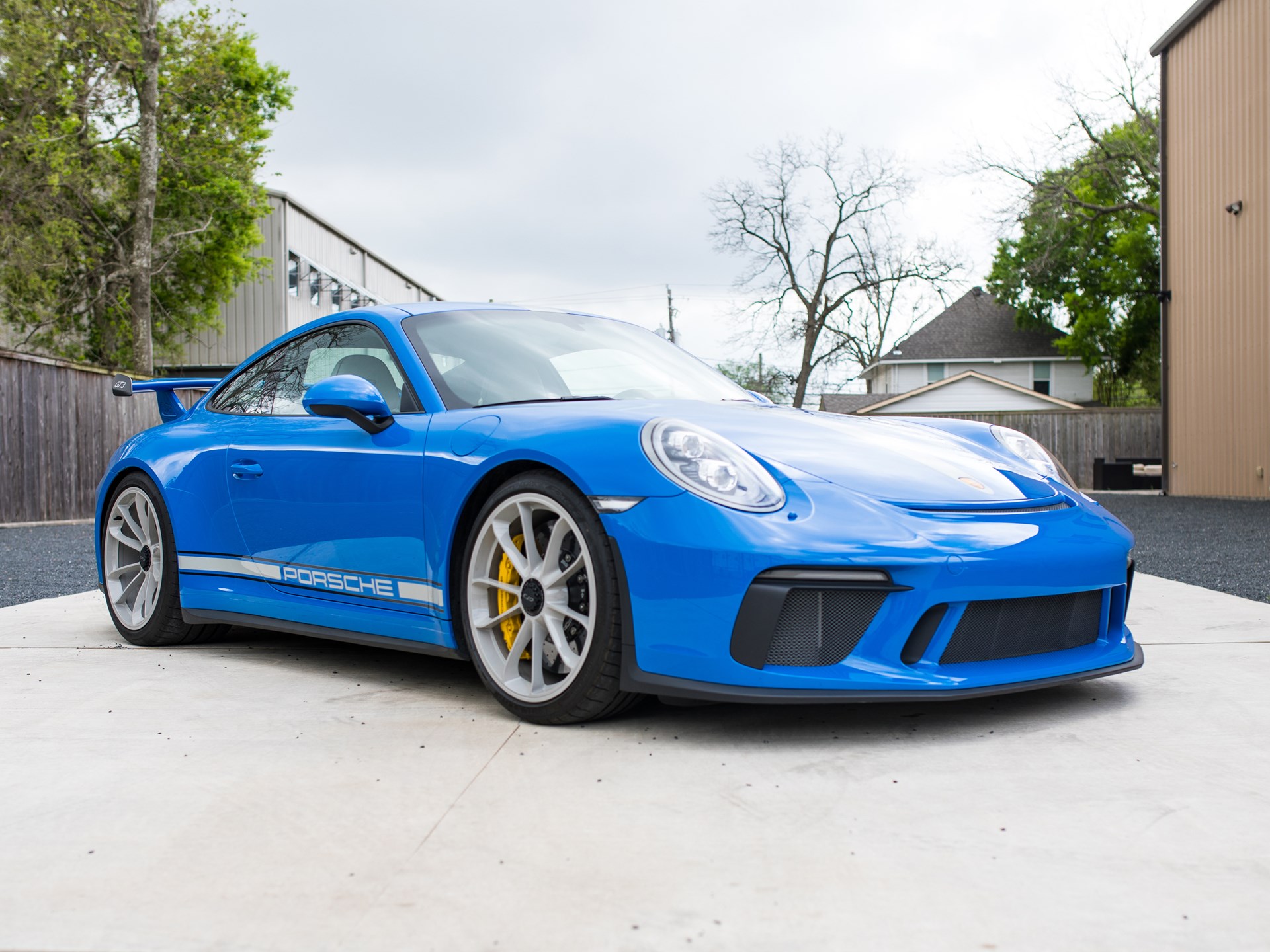 Lot 232 – 2018 Porsche 911 GT3 – 1,700 M – Arrow Blue/Black – Estimate $200k – $230k – Reserve.
Current Bid at Writing: $120k.
Looking at the PORS9 February Market report to be released this week will show a whopping 170 examples currently on the market! Of these 138 are Base models (32 Touring) and of those 22 are Paint to Sample. Looking at the PTS price range we find $160k to $200k. The highest ask $200k unit has 1,688 miles and an MSRP of $235,385. Very highly optioned … but even so this estimate range is unrealistic.
Expect a no sale with a high bid of $165k.
View this car's build spec here.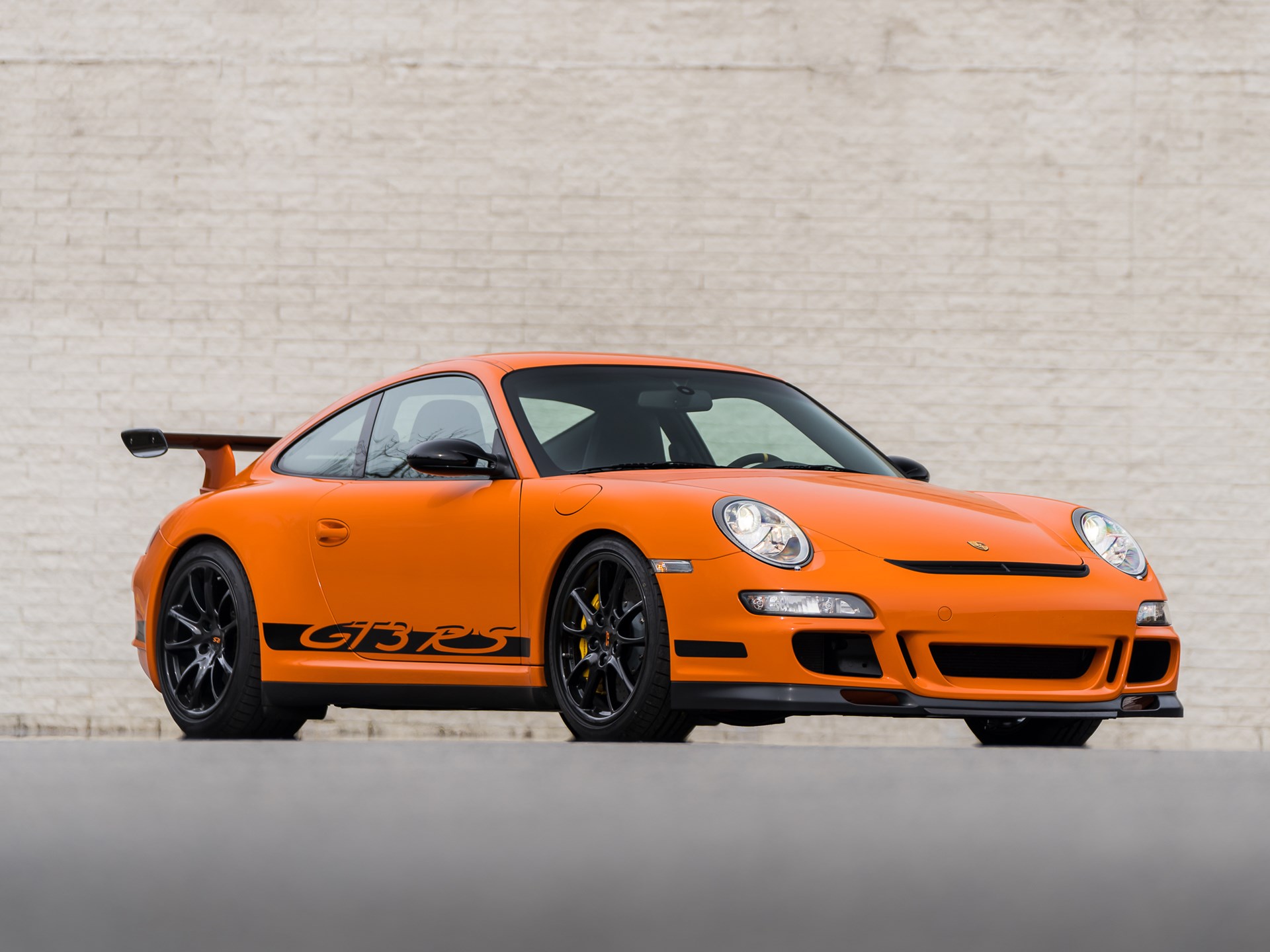 Lot 252 – 2007 Porsche 911 GT3 RS – 12,800 M – RS Orange/Black – Estimate $150k – $160k – Reserve.
Current Bid at Writing: $100k.
At Scottsdale 2020 there were a couple of these that went for some oddly high prices in our view. Orange is the most common color per the PORS9 Registry Search App. Miles are average. Two owner is good but Experian Autocheck says three. Was on ebay around 6 months ago. Very tight estimate range.
All considered $155k is realistic.
View this car's build spec here.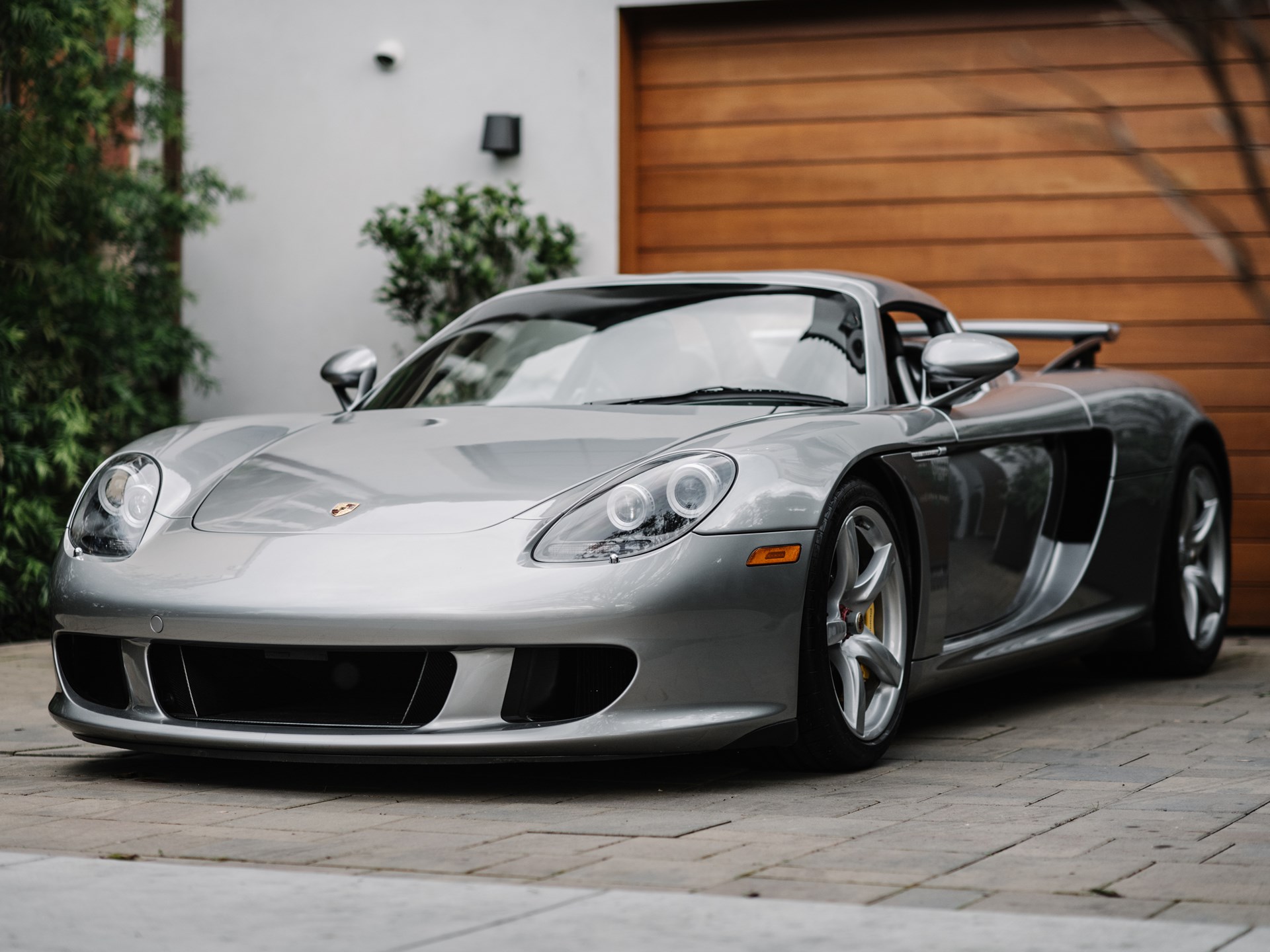 Lot 255 – 2005 Porsche Carrera GT – 4,952 M – GT Silver Metallic/Dark Grey – Estimate $650k to $720k – Reserve.
Current Bid at Writing: $460k.
This two owner example seems like a ready to go car. All the right boxes appear checked for a car that could be reasonably driven. Not a high mileage car but not a garage queen. Exact pricing would depend upon seeing the 'select' service records? How old are the tires? What was done at the last service … etc.?
At Amelia Island 2020 (imagine … that was just a few weeks ago!) we saw a 2004 GT Silver with Grey interior and low miles hammer for $710k (our estimate $725k). At Scottsdale 2020 we saw a 2005 Black with less miles hammer for $710k (our estimate $735k) and a 2004 Black with similar miles hammer for $700k (our estimate $710k). So where does this leave us under the circumstances?
The estimate range has been is lowered to meet new expectations. But buyers for these are still strong … a $685k hammer is quite possible with the reserve off.
View this car's build spec here.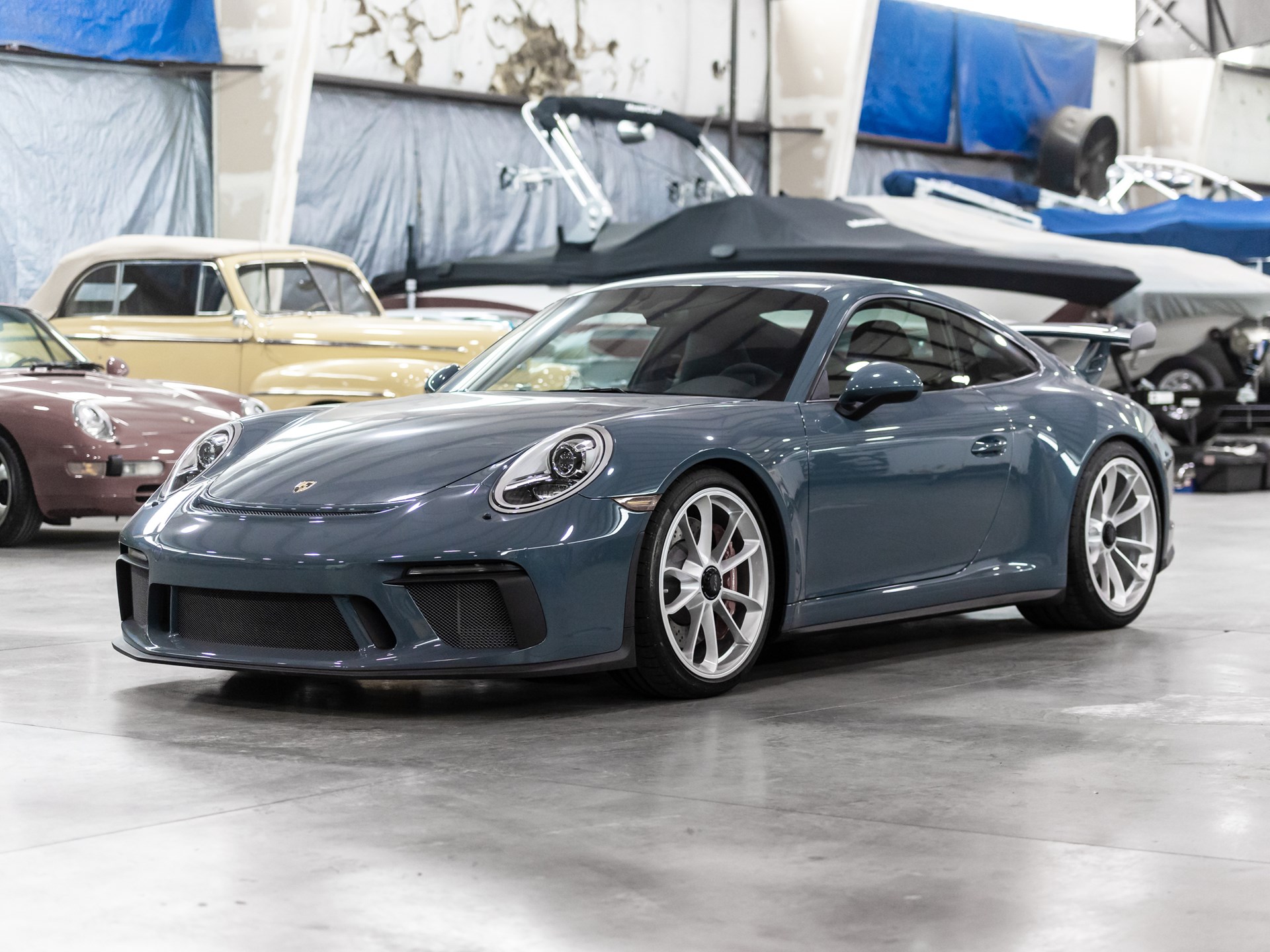 Lot 420 – 2018 Porsche 911 GT3 – 11 M – Graphite Blue Metallic /Black – Estimate $180k – $200k – Reserve.
Current Bid at Writing: $97k.
Not sure why two of these in the same auction? But then this is a strange auction to start. VIN in the listing is wrong and there is no written description of the car. It's a brand new stripped down example with an MSRP $145,020. Now what the owner probably doesn't know is that this car has the 4th lowest MSRP of all 991.2 GT3's delivered to North America … that's something. No need to repeat the PORS9 February Market report but when these cars are selling for ~15% below MSRP offering it up with a low estimate that is 25% over MSRP is … well … indeed strange.
Expect a no sale with a high bid of $130k.
View this car's build spec here.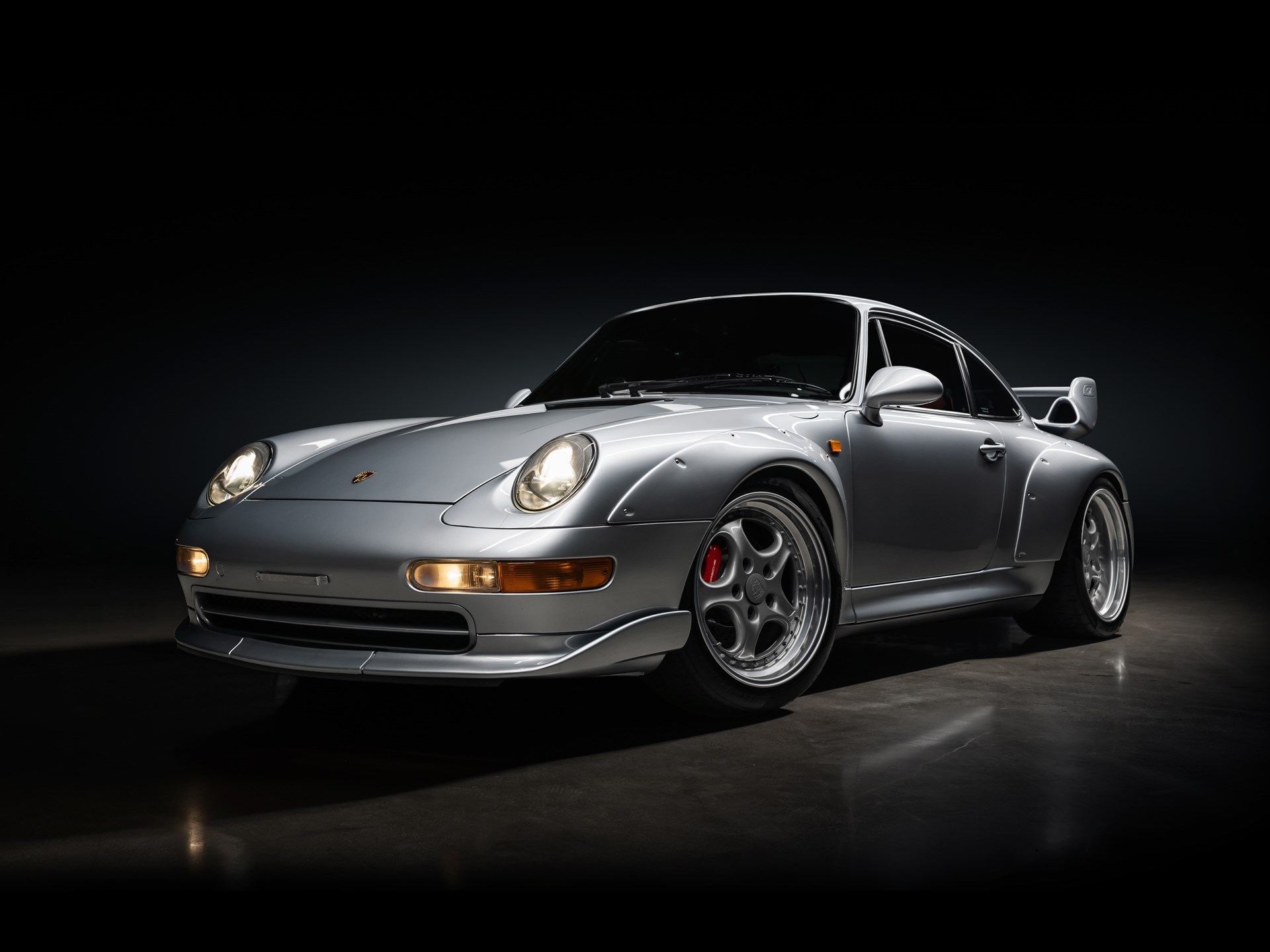 Lot 435 – 1996 993 GT2 – 30,113 KM – Polar Silver/Black/Grey – Estimate $950k – $1.1m – Reserve.
Current Bid at Writing: $490k.
Air-conditioning, electric windows, front airbags don't make for a lightweight but it is the real deal. Original Japan delivery. Unmodified which is good. Mileage is not bad but history and records we have not seen. This was a customer car at Garage911. Being from Japan requires an in-depth examination.
A hedged statement about the paint does not help much – specifically that clear bra covers the most exposed panels (fenders, hood etc.) but readings elsewhere show 7.7 and under? Ok, well we pretty much know what clear bra adds to depth so …? 7.7 is fine depending upon the spot … a full metering is required, this car is most certainly not 100% original paint given the Japanese propensity to paint even the smallest issue.
A 993 GT2 that can get to $795k but that will not sell it.


Already a PORS9 Registry Subcriber? Log In and Upgrade for Free!

Categories:
P9 Premium